INNELLAN BOWLING AND TENNIS CLUB
---
www.innellanbowlingandtennisclub.org.uk
Contact:
secretary@innellanbowlingandtennisclub.org.uk
Tel: 01369 705858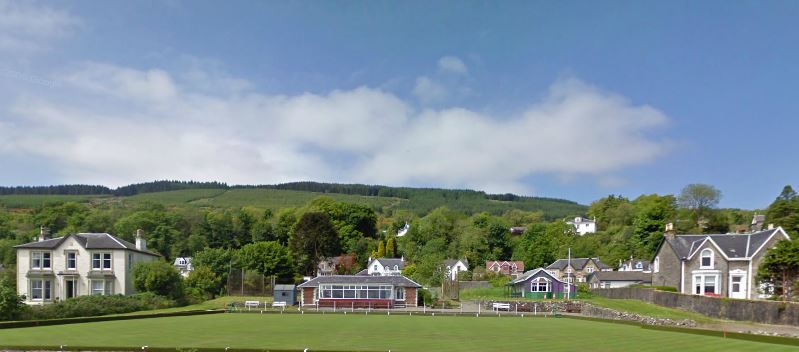 Innellan Bowling & Tennis Club is situated just five miles from Dunoon in a beautiful part of Argyll and overlooks the Clyde. The Club encourages all members of the community to participate and indeed has a very strong Junior Tennis Section. As a Club our emphasis is that bowls and tennis should be fun and that members should enjoy themselves.
The Club originated in 1854 with most of the members being successful businessmen from Glasgow & Greenock, who owned large houses in the village of Innellan where their families spent the summer months on the shores of the Clyde. Today the wealthy merchants and businessmen have been replaced by the community of Innellan and surrounding areas who form the backbone of this small friendly club. The Club is open to all and has recently acquired funding from the Big Lottery Awards for All to enable free coaching sessions to be provided. Visitors to the Club are also most welcome whether playing or non playing and none fail to enjoy the view from the clubhouse.
The Club is open from mid April to mid September so if you are in the area why not drop in and see for yourself. New members and visitors are always welcome. Please visit our Bowling and Tennis Section pages for more information about what is available and please visit our News Page to see what has been or is happening and check the Calendar for forthcoming events.
We look forward to hearing from you or seeing you at our Club.
---
Membership fees:
Adults - £80
Country Membership - £35
Under 18's - £20
" 12's - £15
No Change to Fees for 2018 season
Membership entitles members to play both bowls and tennis
---
Committee of IBTC
2018 Season

Acting President John (Curly) Black
Secretary Myra Campbell
Treasurer Nigel Potts

Ordinary Members

Garreth Garrett
Bill Thom
Vanda Brown
Andy Brown
Jan Pender
Ann Rhodes (Tennis Section)
Kathryn Ross (Tennis Section)

Convenors
2018

Ladies Vanda Brown
Tennis Ann Rhodes
Grounds Convenor John (Curly) Black
Bar Convenor Dave Singleton
Greenkeeper Derek Logue

Wappenschaws:
Tuesday evenings – 7.00pm
Wednesday – 2.00pm (tbc)
Saturdays – 2.00pm (tbc)
Tennis – (Seniors) - Wednesday evenings – 7.00pm
Tennis (Juniors) - Monday evenings -
primary school age group (8+) from 5 - 6.30pm
secondary school age group from 6.30 - 8 pm

The Management Committee would like to take this opportunity to wish all members
a happy and prosperous season and asks that you support your Club by supporting Club activities.
---