INNELLAN BOWLING AND TENNIS CLUB
---
Tennis Section
---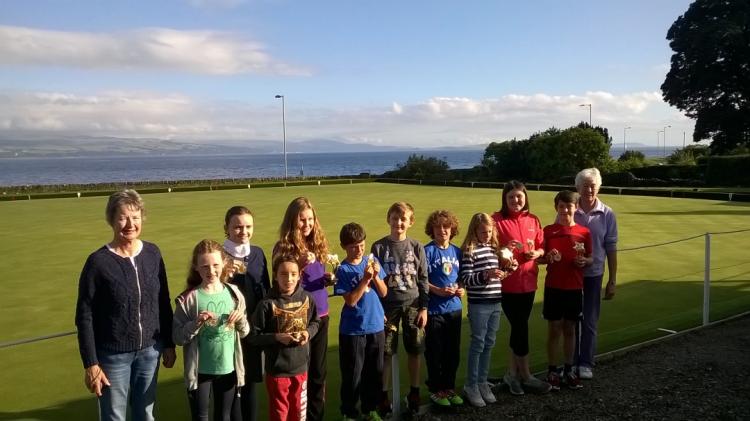 Some of the Junior Tennis players and Coaches
---
The tennis section has a slightly longer season than the bowlers, running from opening day in April until October, or sometimes November each year, depending on the weather. There are two red blaes tennis courts (as used in the French Open). We ask that all players should wear flat-soled shoes as the surface can easily be damaged by shoes with a rough tread. New members, both senior and junior are always welcome as are visitors. Free coaching is available.
Club sessions take place on Wednesday evenings from 7pm and Saturday afternoons from 3pm. Members can make their own arrangements to play at any other times. There is an annual mixed doubles tournament which is open to anyone in the community as well as members of other clubs. This is usually a popular event due to the substantial afternoon tea provided by members. The club championships run throughout the season and culminate in a prize-giving shared with the bowling section in November.
The junior section is open to all children from age 8 and above. Junior members may arrange to play at any time and there is also a dedicated Junior night every Monday (weather permitting). There are two groups: those at primary school come from 5 - 6.30pm and those at secondary school from 6.30 until 8pm. Free coaching is provided and a tuck shop is run on Monday nights. The junior championships are hotly contested and held at the end of the season. Children of primary school age are entitled to free membership if they have a parent who is a member of the club.
Tennis for juniors is on Monday evenings starting at the end of April when coaching will be available - primary school age group (8+) from 5 - 6.30pm and secondary school age group from 6.30 - 8 pm . New junior members are welcome. Why not come along and give it a try - no need to have all the equipment at this stage, we provide all the equipment you will need to get started you just need to bring flat soled shoes. There is also a tuck shop on Monday evenings.
More players, beginners, or experienced, always welcome! Club nights are on Wednesdays from 7 pm.
PLEASE CHECK CALENDAR FOR FORTHCOMING EVENTS THROUGHOUT THE SEASON
---
QUIZ NIGHT AS PART OF THE DUNOON BOWLING TOURNAMENT WEEK ENTERTAINMENT
We will be holding a Quiz Night in the Clubhouse on Monday 5 August at 7.30 for 8pm start. Please arrive early to secure a table.
The entry will be £5 per person which will include supper and prizes for the winners. There will also be a bar & raffle.
Alison, our resident Quizmaster will be testing you all with her mix of difficult/easy/tricky q's.
Looking forward to seeing you there. Please bring along your friends.
Myra
Secretary
---
TENNIS OPEN TOURNAMENT
The Tennis Section held an Open Tournament on Saturday 22nd June which was well attended.
Thanks go to Jan Pender who brought this together and to all the members who helped out on the day, especially the ball boys.
The winners were Charlie Weall & Stewart Adams, with runners up Helen Waddell & Nic Thorley.
Tea & refreshments were provided following the tournament & the club benefitted by £103 from entry & raffle.
Well done to The Tennis Section.
Myra
Secretary
LILAC TREE IN MEMORY OF MEG
The junior tennis members and their parents have had a lovely Lilac Tree planted at the Club in memory of Meg who was the Tennis Coach at IBTC for over 40 years.
Click above to enlarge
The plaque attached to the tree is beautiful (as you will see in the pic above) and was greatly appreciated by Tom and family.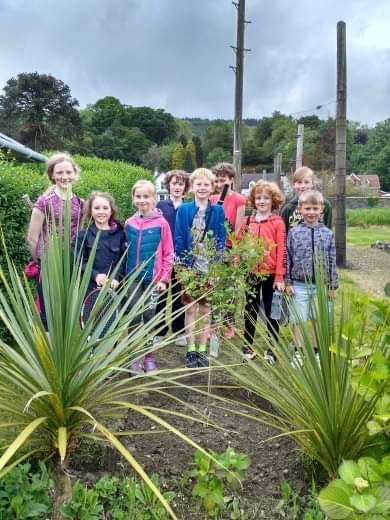 The juniors gathered this week for a happy picture around the tree.
Lilac was chosen as this was Meg's favourite colour.
Myra
Secretary
---
STARTING DATE FOR TENNIS JUNIOR COACHING
Apologies for the late starting date for the juniors this season.
The starting date will now be:-
MONDAY 27th MAY
Times & membership fees as stated on website.
Myra
Secretary
---
TENNIS JUNIORS COACHING
Unfortunately, we don't have a start date for the tennis coaching on Monday evenings, as of yet.
It is hoped that this will be sorted out soon. We will keep the website updated & schools will be informed when arrangements are in place.
Apologies for any inconvenience.
Myra
Secretary
---
OPENING OF THE GREEN AND COURTS 2019
The Club opened its doors for the 165th time on Sunday 14 April. Susan Selkirk of Rothesay BC spoke on behalf of the kindred Clubs & also delivered the first jack & bowls of the season.
80 members, kindred club members & friends attended, with some of the hardy ones enjoying a game of bowls & tennis before having a very substantial afternoon tea.
We then had a huge raffle (thanks to members & guests for the prizes) & a Guess the Name of the Bunny, kindly donated by Vanda Brown. This was won by Georgie Cossar who chose the correct name "Clyde".
The winners of the wappenschaw were Georgie Cossar, Jim Cook & Dougie Menzies & Dougie also won the first toucher of the season.
Congratulations to them all.
All that's left to say is enjoy your bowls & tennis & please remember to do your wee bit towards keeping the clubhouse -& grounds in good order.
Myra
Secretary
---
OPENING DAY 2019 - SUNDAY 14 APRIL
The Club will open for the Season on Sunday 14 April at 2pm. We look forward to seeing you all there. Some baking &/or a raffle prize would be appreciated.
Weather permitting we will have a little bowling & tennis following the opening ceremony.
---
EXTRAORDINARY GENERAL MEETING
An EGM will be held in the Clubhouse on Sunday 17 March at 2pm. It is hoped that as many members as possible can attend. The necessary paperwork has been sent by email today (February 26th).
---
WORKING PARTY - SATURDAY 02 MARCH at 10.00
If you have a spare hour or two on Saturday 02 March, we would be pleased to see you at the Club. There will be Committee Members there to let you know the jobs required. If Saturday doesn't suit you please go along at your leisure and do what you can. Every little helps!
Thankyou
---