INNELLAN BOWLING AND TENNIS CLUB
---
News and Events
---
A.G.M.
The Annual General Meeting of Innellan Bowling & Tennis Club will be held on Sunday 18 November in the Clubhouse at 2.00pm-.
It is hoped that as many members as possible attend the meeting as there are important issues to discuss.
Myra
Secretary
---
PRESENTATION OF PRIZES / DINNER
The Club is holding its Presentation of Prizes & Dinner in The Villagers' Royal on Friday 16th November. Quite a bit of interest has been shown and it should be a good night. If you are attending, could you please be at The Villagers for 7 for 7.30 seated.
Thanks
Myra
Secretary
---
CLUBHOUSE & GROUNDS
Could I please remind members that we will be looking for assistance with moving the benches indoors for the winter months. We also have to clean up the clubhouse following the AGM. The water will then be turned off until required to deter any leaks through the winter months.
Thanks
Myra
Secretary
---
SAD NEWS
Long time Club members, Dougie and Lynn Lauffer lost their eldest son Campbell, on Sunday 12th August, to a massive heart attack.
This has obviously been a devastating loss to the family and our thoughts are with Lynn, Dougie, Melville, Fraser, Emma, Andrew, Scott and all the family especially little Katie, Campbell's daughter.
Campbell's funeral, to which you are all respectfully invited, will be at 10.45am on Friday 24 August in the High Kirk, Dunoon and then to Greenock Crematorium for 1pm.
It's been a very sad year for the Club.
Myra Campbell
Secretary
---
QUIZ NIGHT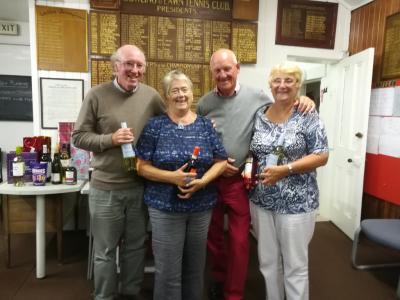 Quiz Winners: Peter & Pat Webster, Ernie & Shirley Sykes
The Club held its annual Quiz Night as part of the Dunoon Bowling Tournament entertainment. Myra was the Quizmaster and took no nonsense from Dave Singleton and Peter Webster over some of the answers. Dave actually got a red card and a warning that he wouldn't be allowed entry to the next quiz. This ban was quickly withdrawn as he said there would be no bar facilities if he wasn't there.
Thanks to all who came along to support us, especially our friends from Dunoon Argyll BC who never let us down and our regulars Eleanor, Mags and Ruth. Thanks also to Carrie for providing goodies for the event.
The winners on the night were "The Pers" Pat and Peter Webster and Shirley and Ernie Sykes.
Congratulations to them and well done to all.
We missed Archie, Dot and Maggie and hope they feel better soon. Also Alison our regular Quizmaster who was under the weather too.
It was a beautiful evening and thankfully we had no invasion of midges like last time.
Haste ye Back
Myra Campbell
Secretary
---
BOWLS & TENNIS COACHING AT INNELLAN
Earlier this year the Club was contacted by Neil Kelly of The Help Project based in Dunoon asking if we could provide some taster sessions in bowls and tennis for some of their young people.
The first of these sessions was held on Wednesday 13th June when Neil came along with two of The Help Project"s young people.
All three of them enjoyed a few ends of bowls, coached by Andy Brown and then went on to have a go on the tennis courts, coached by Liz Gower and Charlie Weall.
It is hoped that these sessions will continue for a few weeks, maybe with a few more young people coming along.
The Club is happy to get involved with these sessions and thanks The Help Project for contacting IBTC.
Myra Campbell
Secretary
---
QUIZ NIGHT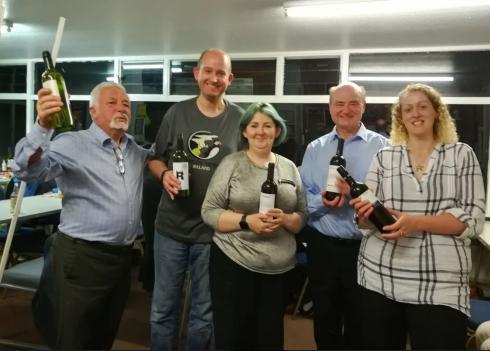 Quiz Night Winners - Ian Wright, Nigel Potts, Sam Potts, Alan Reid and Nicola Potts
The winners of IBTC's Quiz Night on Friday 8th June were Nicola, Sam and Nigel Potts, Ian Wright and Alan Reid.
The midges, fielding numerous teams, ?????? came a close second.
Congratulations to all and thank you to all the quizzers who came along. Having 10 teams was an excellent turnout and most have booked in for next time.
Special thanks to Alison Tarkenter, our resident Quizmaster.
---
THE FOLLOWING NOTICE FOLLOWS ON FROM MYRA's E-MAIL TO ALL MEMBERS ON 8th MAY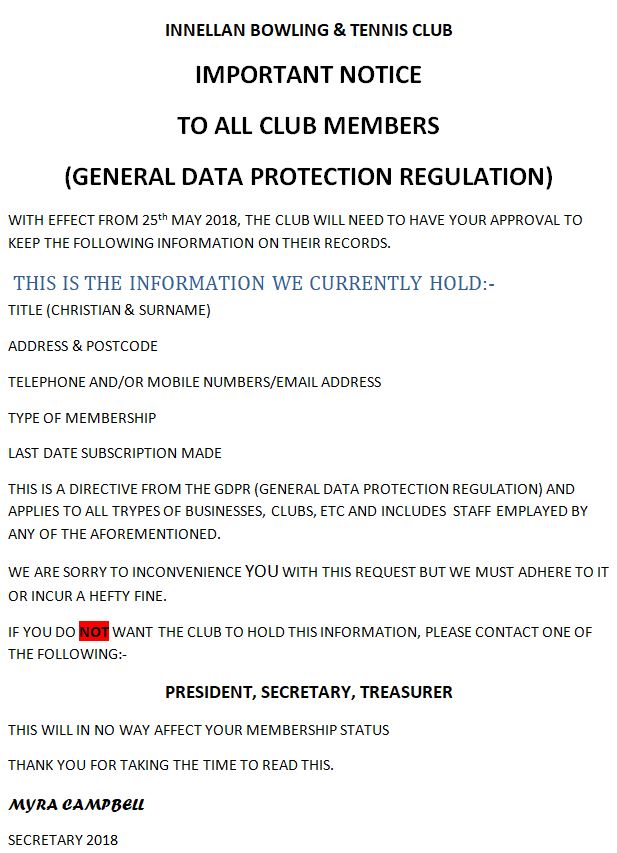 ---
QUIZ NIGHT

The Club will hold its first fundraiser of the season on Friday 8th June in the clubhouse. Entry is £4.00 per person and teams should be 4 maximum.
The Quiz will commence at 8pm, please come early to claim your seats. We have a licence for the evening and there will be teas/coffees available.
A raffle prize would be appreciated.
Look forward to seeing you there.
Myra Campbell
Secretary
---
OPENING DAY 2018
Saturday 14 April saw the Opening of the Courts and Green at Innellan Bowling and Tennis Club with a super turnout of 60 + members and friends, including kindred clubs. Special thanks to the five islanders who swam over to join in the celebrations.
Acting President John (Curly) Black welcomed everyone to the Opening of the Green and Courts for 2018.
Ex members Lorna and Myron Reid officiated at the opening and Lorna ably delivered the first jack and two bowls of the 2018 season. Myron spoke kindly about the Club which he and Lorna had joined when they set up residence in Innellan.
John Wilson from Rothesay BC spoke on behalf of kindred Clubs.
The first toucher of the season was from Jim Cook, our octogenarian and oldest full member and the winning triple from the first wappenschaw was Ann MacDonald, Eileen Brand and yes, once again Jim Cook (Innellan).
The tennis section was also well supported and they enjoyed their first games of the season, following all the hard work they had put in preparing the courts after damage caused by the harsh winter weather.
A very sumptuous afternoon tea followed the games and the raffle went on, and on, and on ……………… due to 'a slight technical hitch' with the tickets. Thanks to everyone who provided food and raffle prizes.
We hope everyone enjoyed their day and we now look forward to a more successful season than last year and send our best wishes to all kindred clubs.
Myra Campbell
Secretary
---
SAD NEWS
It is with great sadness that I have to pass on the news of Meg Henry's passing on Sunday 15th April following a brave battle with cancer.
Meg has been "The Tennis Lady" at Innellan since the mid seventies and the Club will miss her dreadfully. She taught so many local youngsters to play the game including my own son who is now 43 years old. So many people have her to thank for spending her time coaching the youngsters and working so hard to keep the tennis courts in order.
I know you will all keep Tom, Graeme, Robin, Janice, Sara & Innes in your thoughts and prayers.
Tom has just advised me that Meg's funeral will be on:
THURSDAY 26th APRIL at 11.30am at Toward Church, then to Inverchaolain Cemetery. Following the cemetery you are invited to attend The Osborne.
It is family flowers only please with donations, if desired, to Cowal Hospice Trust.
Tom has said that a wreath from the Club would be acceptable.
The notice will be in this weeks paper and also in The Herald.
R.I.P. Meg
Myra Campbell
Secretary
---
SAD NEWS
The flag at the Club is flying at half mast in memory of David (Davy) Robertson.
Davy was a former member of Innellan Bowling & Tennis Club and was a lovely man who loved his bowls. Our thoughts are with his wife and family. We understand the funeral will be on Tuesday 10th April at 10.00 am at Greenock Crematorium. No further arrangements are known at this time.
R.I.P. Davy.
Myra Campbell
Secretary
---
COMMITTEE UPDATE
Committee was sorry to receive Kate Morrison's resignation due to family commitments. Although Kate only joined us at the AGM in November, she has taken an active interest in the meetings since then.
We would like to thank Kate for the support she gave Committee and I'm pleased to say that she is continuing with her Club membership.
The good news is we have a member willing to be co-opted onto Committee in Kate's place and we welcome Kathryn Ross aboard.
Kathryn will commence her post at the May meeting.
As the membership card was still at the printers, I have been able to have it updated for Opening Day.
Myra Campbell
Secretary
---
WORK PARTIES
Tuesday 27th was a pretty miserable day for the second work party but five hardy members turned up & worked for a few hours. Thank you to them and to others who have been popping in, taking away all the tablecloths to launder, doing little bits of gardening work, trimming the hedge etc. The tennis folks have been very busy on the courts too.
This is just a wee reminder that the dates set are not the only days you can go along to do your bit. Just pop in if you have a spare hour. Every little helps.
Only two weeks on Saturday till the big day. Let's hope it's a better season for IBTC. We'll not dwell on last year - it's gone!
Looking forward to seeing you all (in the sunshine hopefully).
Myra Campbell
Secretary
---
OPENING DAY 2018 – WAPPENSCHAWS etc
The Club will open for the 2018 season on
Saturday 14 April at 2pm
We hope to have a nice dry day with lots of sunshine and following the Opening Ceremony play a short wappenschaw/game of tennis, followed by afternoon tea/raffle. We would ask you to please provide home baking/savouries or raffle prize.
The Bowling Meeting has been set for
Tuesday 17th April
Weather permitting, this will also be the first wappenschaw of the season and the meeting will be held immediately after this. PLEASE NOTE THAT THE MEETING WILL BE HELD REGARDLESS OF WHETHER OR NOT WE HAVE A WAPPENSCHAW THAT EVENING.
WAPPENSCHAW TIMES
APRIL 17th & 24th - 6.30pm on the Green
FROM 01 MAY ONWARDS - 7.00pm on the Green
Look forward to seeing you there.
Regards
Myra Campbell
Secretary
---
WORK PARTIES
At the Management Committee Meeting held on Monday 12 March, the following dates were set for work parties to carry out essential works prior to Opening Day.
TUESDAY 20th MARCH - FROM 10.00am
TUESDAY 27th MARCH - FROM 10.00am
SATURDAY 31st MARCH - FROM 10.00am
These times don't mean that you have to be there at 10.00am. Some of you may rather come in the afternoon. You choose, we will be happy to see you whenever you can manage along.
Many hands make light work and we hope that as many members as possible will pitch in and tackle the works required, enabling the Green/Courts & Clubhouse to be ready for Opening Day on 14th April.
There is a list of work which requires to be done before Opening Day. It is hoped that each member – Bowls and Tennis – along with any family or friends who can lend a hand, will make the effort to have a go at some of these works – every little helps and WE REALLY DO NEED YOUR HELP.
These dates are set to encourage work parties, but if you have a spare hour or two on other dates, please go along and do your bit.
Tea & coffee will be available each day - but bring along a sandwich/packed lunch.
If you have any queries please do not hesitate to get back to me.
Thanking you in anticipation.
Myra Campbell
Secretary
---
EGM
Thank you to the 21 members who attended the EGM in the Clubhouse on Sunday 14 January.
This meeting had been called to appoint a new President and Vice President following resignations from the previous office bearers. Past President John (Curly) Black acted as Chairman for this meeting.
Unfortunately, following discussions and several proposals, we were no further forward.
Although this was very disappointing, it was a positive meeting too. Everyone agreed that we have to pull together, with or without these posts being filled.
As a temporary measure, and to bring the Committee to its full complement of 10, the Chairman asked if there were two members in attendance who would join Committee as ordinary members.
Vanda and Andy Brown offered to join Committee and both were accepted.
The Chairman reminded the members that we were still looking to fill the office bearer posts in the near future and asked everyone to think about it seriously.
In the meantime, Committee will meet monthly and continue to do the best for the Club.
IBTC is worth fighting for.
Myra Campbell
Secretary