INNELLAN BOWLING AND TENNIS CLUB
---
Bowling Section
---
Innellan Bowling and Tennis Club aim to provide members with a full Calendar of Bowling events throughout the season commencing on Opening Day through to Closing Day in September. These are made up of a full cross section of games including:
Ladies and Gents Competitions: - all members being able to play at any time of day throughout the week except some Thursday evenings when Gents Hyslop League and Ladies Triples League teams have home matches. There is also a Seniors Mixed Triples League with games being played every second Tuesday morning commencing June. See Events Calendar for dates when home league matches are scheduled.
Championship Singles, President's Trophy, Vice President's Trophy, Secretary's Plate, Gents Pairs, Ladies Pairs, Mixed Pairs competitions - these run throughout the season with Finals Day at the beginning of September.
The Club also hosts one day events either on a Saturday or Sunday throughout the season these include a Gents Open Pairs; Gents' Open Triples; Mixed Rinks; Ladies Day and an annual Friendly Challenge Match against Colintraive BC.
In addition wappenschaws are held on Tuesday evenings (6.45pm start) and Wednesday afternoon (2.00pm start). On Tuesday evenings teams are made up from a ballot of members drawn on the night and play for points throughout the season with the player having the highest number of points at the end of the season being declared the winner. On Wednesday afternoons teams are similarly drawn from a ballot of members but no points are awarded.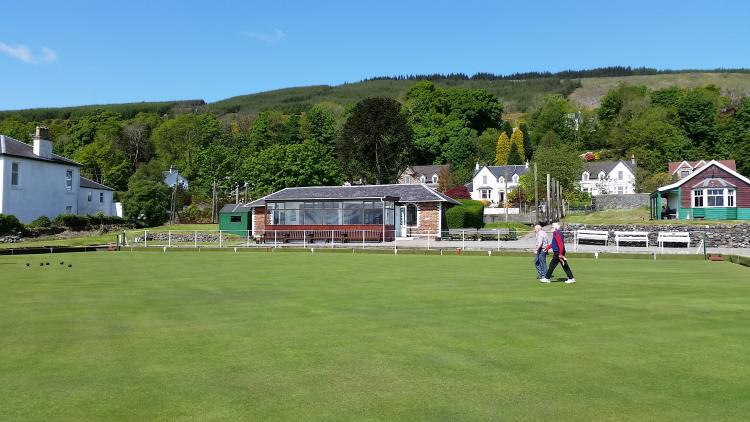 Enjoying Innellan Green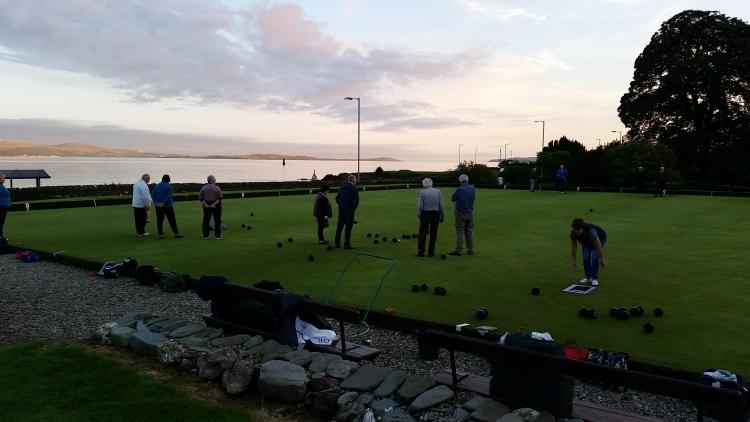 A 'Tuesday Wappenschaw' at Innellan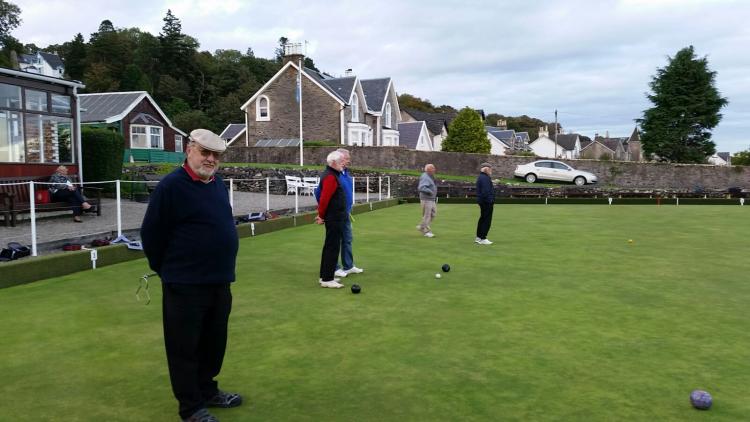 Old Hands on the Green
PLEASE CHECK CALENDAR FOR FORTHCOMING EVENTS THROUGHOUT THE SEASON
---
OPENING DAY 2018 – WAPPENSCHAWS etc
The Club will open for the 2018 season on
Saturday 14 April at 2pm
We hope to have a nice dry day with lots of sunshine and following the Opening Ceremony play a short wappenschaw/game of tennis, followed by afternoon tea/raffle. We would ask you to please provide home baking/savouries or raffle prize.
The Bowling Meeting has been set for
Tuesday 17th April
Weather permitting, this will also be the first wappenschaw of the season and the meeting will be held immediately after this. PLEASE NOTE THAT THE MEETING WILL BE HELD REGARDLESS OF WHETHER OR NOT WE HAVE A WAPPENSCHAW THAT EVENING.
WAPPENSCHAW TIMES
APRIL 17th & 24th - 6.30pm on the Green
FROM 01 MAY ONWARDS - 7.00pm on the Green
Look forward to seeing you there.
Regards
Myra Campbell
Secretary
---
WORK PARTIES
At the Management Committee Meeting held on Monday 12 March, the following dates were set for work parties to carry out essential works prior to Opening Day.
TUESDAY 20th MARCH - FROM 10.00am
TUESDAY 27th MARCH - FROM 10.00am
SATURDAY 31st MARCH - FROM 10.00am
These times don't mean that you have to be there at 10.00am. Some of you may rather come in the afternoon. You choose, we will be happy to see you whenever you can manage along.
Many hands make light work and we hope that as many members as possible will pitch in and tackle the works required, enabling the Green/Courts & Clubhouse to be ready for Opening Day on 14th April.
There is a list of work which requires to be done before Opening Day. It is hoped that each member – Bowls and Tennis – along with any family or friends who can lend a hand, will make the effort to have a go at some of these works – every little helps and WE REALLY DO NEED YOUR HELP.
These dates are set to encourage work parties, but if you have a spare hour or two on other dates, please go along and do your bit.
Tea & coffee will be available each day - but bring along a sandwich/packed lunch.
If you have any queries please do not hesitate to get back to me.
Thanking you in anticipation.
Myra Campbell
Secretary
---
EGM
Thank you to the 21 members who attended the EGM in the Clubhouse on Sunday 14 January.
This meeting had been called to appoint a new President and Vice President following resignations from the previous office bearers. Past President John (Curly) Black acted as Chairman for this meeting.
Unfortunately, following discussions and several proposals, we were no further forward.
Although this was very disappointing, it was a positive meeting too. Everyone agreed that we have to pull together, with or without these posts being filled.
As a temporary measure, and to bring the Committee to its full complement of 10, the Chairman asked if there were two members in attendance who would join Committee as ordinary members.
Vanda and Andy Brown offered to join Committee and both were accepted.
The Chairman reminded the members that we were still looking to fill the office bearer posts in the near future and asked everyone to think about it seriously.
In the meantime, Committee will meet monthly and continue to do the best for the Club.
IBTC is worth fighting for.
Myra Campbell
Secretary
---